Countdown to Retirement
Don't forget these important steps before you say 'goodbye' to the office
By Staff Writers Jennifer Karchmer and Martine Costello

NEW YORK (CNNfn) – You may be dreaming of lazy afternoons on the golf course when you retire, but if that's all you're doing while counting down the days you could be in for a shock.
Long before you say "Goodbye" to the office crowd, there are crucial steps you should take to make sure your benefits are in order and you have enough money to live on.
"You should tie up these loose ends a year or two before retiring," said John Challenger, chief executive of Challenger, Gray & Christmas, a Chicago workplace consultant. "Don't wait until the last minute to understand your benefits options."
Check your retirement benefits
Experts say you should talk to your company's human resources department about a year before you plan to retire to get a full accounting of your 401(k) and other benefits.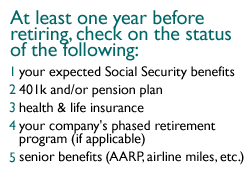 Depending on your age at retirement and how large your 401(k) account is, one option is to leave the plan with your employer, says Dee Lee, a certified financial planner and author of  "The Complete Idiot's Guide to 401(k) Plans."
By law, companies must allow you to leave your plan with them if your account balance is more than $5,000, Lee said. You don't have to start withdrawing from your 401(k) until you reach 70-1/2, so you'll have some time to review your options, she said.
You can also take regular installment payments from the plan based on your life expectancy before you turn 59-1/2, said David Yeske, a certified financial planner and president of Yeske & Associates in San Francisco. You'll pay income tax on the amount but you'll avoid penalties.
---
---
But many experts advise people to roll over their 401(k) into an IRA.Ed Slott, a national expert on IRAs and taxes and a CNNfn.com columnist, said a rollover will offer more tax and estate-planning benefits.
"Retirees are much too loyal to the company that employed them," Slott said in his most recent column.  "When it comes to retirement savings, your first loyalty must be to yourself."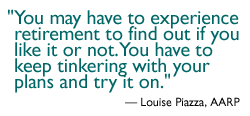 If you have an old-fashioned pension plan, Lee suggests you find out what the payout options are.
For example, you may have the option to receive one lump sum or gradual payments over time.
---
Click here to learn how pension plans work
---
Social Security benefitsAnd even though it won't replace your salary, you should check on your Social Security benefits. Experts suggest you apply for benefits at least three months before you would like to begin receiving a check.
Your benefits are based on your average earnings over your career, according to the Social Security Administration. If you stopped working to raise a family, your monthly check may be lower than you think. Likewise, your benefits will be higher the longer you wait to retire. The so-called "full retirement age" is increasing from 65 for people born after 1937.
To apply for Social Security benefits, call 800-772-1213.
The rules about benefits are complicated, but Social Security has detailed information on its Web site. For example, if your full retirement age is 65, you'll get about a 20 percent reduction in benefits if you retire at 62. And people born in 1943 or later will get 8 percent more a year for each year they delay Social Security beyond full retirement age until they retire or turn 70.
Check your other benefits
Even if you're not ready to retire or collect Social Security, you should sign up for Medicare before you turn 65, the administration said.
Experts said it's important to check on the status of your health and life insurance benefits.
Medicare will become your primary health insurance at 65, Yeske said. But if you retire before then, you can pay to continue your company insurance policy for 18 months. By law, anyone, regardless of age, can pay to continue medical benefits for that amount of time after leaving a job.
Keep in mind that the way you elect to receive pension benefits may affect your medical coverage, Yeske said. He had a client who would have lost his coverage if he took a lump sum from his pension. But the client could keep his medical benefits if he took installment payments.
And if you have group life insurance through your company, in some cases you can convert it to regular life insurance, Yeske said.
You should also consider if there are any expensive medical procedures you need to take care of before you retire and your medical coverage expires. For example, you may need eye surgery or expensive dental work.
Consider a "phased" retirement
Maybe you started planning for retirement late and you're not sure you have enough to live on. Or, you're one of the lucky people who love your work so much you can't quite give it up. You might want to see if your company has a "phased" retirement program that allows you to keep working.
More and more companies are holding onto their older, skilled work force by offering part-time hours, consulting work or jobs in different capacities. The programs often have an application process and require your manager's approval.
But be sure to ask if your pension benefits will continue to accrue if you keep working.
Easing into retirement gradually may also be good for the soul. "It's very important to keep in touch with co-workers as a source of social interaction," said Louise Piazza, AARP's program consultant on economic security. Plus, entering retirement is a crossroads for many people.
"You may have to experience retirement to find out if you like it or not," she said.