Financial Planning Competency Handbook, Second Edition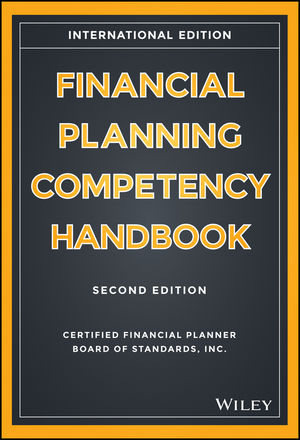 Certified Financial Planner Board of Standards, Inc. announced that it has completely revised and updated it's popular reference guide for financial planning students and practitioners. John Wiley & Sons published the first-of-its-kind Financial Planning Competency Handbook in 2013. Elissa and Dave contributed 30 chapters to the original Handbook as members of a select team of practitioners and academics invited to write this comprehensive guide to financial planning. In the fully updated second edition, Elissa and Dave collectively contributed over 20 chapters on topics including Economic Concepts, Investment Strategies, Estate Tax Compliance and Tax Calculation, Gifting Strategies, Retirement Income and Distribution Services and more.
"The financial planning profession has evolved significantly in the two years since the Financial Planning Competency Handbook was first published. The second edition has been revised accordingly, giving financial planning practitioners, students and educators a one-stop resource on issues facing today's financial planning professionals as they seek to meet their clients' changing needs," said the book's editor, CFP Board Director of Academic Programs and Initiatives Dr. Charles Chaffin. "With nearly two-thirds of the handbook's content brand new, CFP Board is continuing to work to expand the body of knowledge in the financial planning profession."

"The fully updated second edition includes brand new content based upon the new Principal Knowledge Topics developed through the most recent Job Task Analysis. Each of these topics are explored from both a theoretical as well as a practical perspective through connections diagrams, practitioner profiles, and vignettes. There is also a detailed case that runs through each stage of the financial planning process. In addition, a completely new section is devoted to the interdisciplinary nature of financial planning, including diverse fields like psychology, behavioral finance, communication, the aging population, and marriage and family therapy." – CFP® Board Press Release
The 944-page book is available in hardcover and electronic book formats and is available through the publisher and on Amazon.com.