The Live Big® Chronicles – Live Big, Live Free
In March of 2009, during the worst of the economic downturn, we asked friends, family, and clients to suggest ways that people could have rich, Live Big® experiences without spending a lot of money. We received a tremendous response and were able to compile the creative and inspiring Live Big List. We were recently inspired by that idea to create The Live Big Chronicles, a new list that chronicles some of the things you can do to Live Big in the DC/Maryland/Virginia (DMV) and San Francisco areas without spending any money at all. Below is a sampling of some of the fun outings available in a neighborhood near you. This is just the start of the list! Let us know if you have a fun idea or activity to add.
s
DMV Area
"Happenings at Mosaic"
The Mosaic District in Fairfax, VA is an up-and-coming area for people to go to shop, dine, and to have a good time. They offer a variety of free activities including the following (just to name a few):
–Yoga in the Park – Improve your strength, flexibility, and balance through yoga with the extra incentive of being able to do it outdoors
–Films in the Park – Watch free movies shown on the big outdoor screen on Friday nights
–Summer Block Parties – Enjoy summertime with friends/family, great food, live music, and summer games
"DC Outdoor Films"
DC Outdoor Films hosts an impressive number of outdoor film screenings all around the DMV area. The movie options are numerous and the dates for the screenings are spread out along the calendar to give you a wide variety of options when deciding which movie you'd like to see and when. –Screen on the Green – Watch free movies shown on the historic National Mall –Jane Austen Outdoor Film Series 2014 – View Jane Austen's classic novels come to life onscreen at the Dumbarton House –National Harbor Movies on the Potomac – In addition to watching a great flick, this film screening location boasts picturesque views on the National Harbor See the complete list of outdoor films all around the DMV area.
DC by Foot offers walking tours all around Washington D.C. Tours run an average of two hours and attendees are encouraged to tip for what you think the tour was worth or just what you could afford at the end (no obligation). A member of the Yeske Buie Team participated in a tour of Arlington Cemetery, and she really enjoyed learning about our nation's history, getting exercise as the group walked around the city, and appreciating how cheap it was for such a great experience.
"Admission-Free Museums"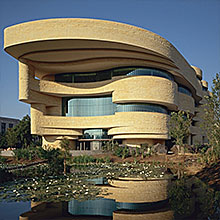 The national museums in Washington D.C., unlike San Francisco museums, are nearly all admission-free. Below is a list of some of the free museums you can visit throughout the year.
Air and Space Museum | Independence Ave. at 6th St., SW | 202-633-1000 | 10 a.m.–5:30 p.m. daily | www.airandspace.si.edu
American History Museum | 1400 Constitution Ave., NW | 202-633-1000 | 10 a.m.–5:30 p.m. daily | www.americanhistory.si.edu
American Indian Museum (picture on the left) | 4th St. and Independence Ave., SW | 202-633-1000 | 10 a.m.–5:30 p.m. daily 
National Gallery of Art | 4th and Constitution Avenue NW | (202) 737-4215 | Monday-Saturday: 10 a.m. – 5 p.m., Sunday: 11 a.m. – 6 p.m. | www.nga.gov
National History Museum | 10th St. and Constitution Ave., NW | 202-633-1000 | 10 a.m.–5:30 p.m. daily 
National Portrait Gallery | 8th and F Sts., NW | 202-633-1000 | 11:30 a.m.–7:00 p.m. daily | www.npg.si.edu
National Postal Museum | 2 Massachusetts Ave., NE | 202-633-1000 | 10 a.m.–5:30 p.m. daily 
National Zoo | 3001 Connecticut Ave., NW | 202-633-4888 
San Francisco Area
The San Francisco Opera will be hosting a free concert at Sharon Meadow in Golden Gate Park on Sunday, September 7 at 1:30 pm. This free, public event will celebrate the opening of the SF Opera's 92nd season. Bring your picnic blanket, food, and beverages, and enjoy music from the SF Opera Orchestra led by Music Director Nicola Luisotti.

"Stern Grove Festival"

The Stern Grove Festival provides the Bay Area with admission-free access to diverse performing arts over the summer each Sunday at 2:00 pm at a beautiful outdoor amphitheater at 19th Avenue and Sloat Blvd. Bring a picnic blanket, snacks, and drinks, and enjoy the free concerts at Stern Grove.
"Watch the San Francisco Giants at the Knothole"
AT&T Park has one of the best free viewing areas in major league baseball, a section in the stadium called the "Knothole" where you can view at least part if not all of a Giants game for free. There is a tight knit community of people who take advantage of this perk, particularly for games leading to the World Series or even World Series games themselves. The catch is that your viewing time will depend on the number of people who show up as the organizers will shift people in and out every three innings unless demand is low, in which case you can view an entire game for free.
"Museum Free Days"
Unlike the DMV area, San Francisco museums are not admission-free EXCEPT on certain days. Below is a list of those days at some of the most popular museums and a couple of additional honorable mentions.
Asian Art Museum | 200 Larkin St. | Free: Target First Free Sundays; children under 12 free when accompanied by an adult | 415-581-3500
California Academy of Sciences | 55 Concourse Dr., Golden Gate Park | Free: Third Wednesday of the month; children six and under free | 415-379-8000 | www.calacademy.org
De Young Museum (picture on the left) | 50 Hagiwara Tea Garden Dr. | Free: First Tuesday of the month; children 12 and under free when accompanied by an adult | 415-750-3600 | www.deyoungmuseum.org
Exploratorium | Pier 15, | Free: five (5) select days each year; children 5 and under free | (415) 528-4360 | www.exploratorium.edu
Legion of Honor | Lincoln Park, 34th Avenue and Clement Street | Free: First Tuesday of the month; children 12 and under free when accompanied by an adult | 415-750-3600 | www.legionofhonor.org
Museum of the African Diaspora | 685 Mission St. | Free: Children 12 and under, visit website for additional free days | 415-358-7200 | www.moadsf.org
Conservatory of Flowers | 100 John F. Kennedy Dr., Golden Gate Park | Free: First Tuesday of every month; ages four and under | 415-666-7001 | www.conservatoryofflowers.org
San Francisco Zoo | One Zoo Road | Free: First Wednesday of every month; ages 2 and younger free for San Francisco residents only; ages three and under free | 415-753-7080